A very old post i found on a forum, it was basically who i was picking for the All star event in Las vegas back in 2007. By the way, yes I'm very happy that finally my favorite player got a championship and yes he deserved it. Although i live 10 minutes away from LA the lakers will remain the Fakers for me just because i have very little respect for Kobe Bryant, as a person and a player.
Now the walk down memory lane, enjoy this post from a year ago :)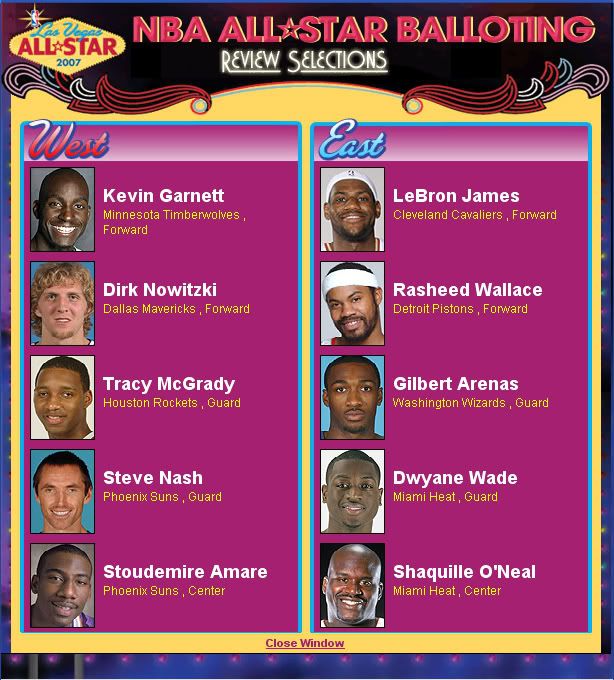 WEST
Forwards:
Kevin Garnett, and Dirk Nowitzki
The best Forwards in the Game, Hands down.
And Kevin Garnett, is my overall favorite player, if i could build a team around any player, it would be him.
Guards:
Tracy Mcgrady, Steve nash
I had to choose tracy, even though he hasn't been blowing up or anything, and been silent.
He's just an amazing player, and he makes his team soo good when he's on the floor.
But besides ALL that, he shoots like he's on fire nearly all the time.
In an All star game, He's CRUCIAL, when you just need those points.
Steve nash, 2 time MVP, one of the best passers in the history of our game, definetely deserves this.
Just watching him play shows you the level he goes to, to get his friends involved, the guy ran 2 circles around the court, to split the defense, and rather than laying it up, he passes to amare for the dunk.
What heart, what passion, what a team player, Nuff said.
Center:
Amare, his dominance can't be stopped, he's not yao, standing back and shooting, He'll take it to your face and dunk on you.
He's a Powerfull player, and now that he's back this season, he DESERVES to be on the all star team.
~~~~~~~~~~~~~~~~~~~~~~~~~~~~~~~~~~~~~~~~~~~~~~~~~~~~~~~~`
EAST
Forwards:
Rasheed wallace has been struggling this season, but he's still getting it done.
Detroit the team and franchise is a bit weaker this year but still a threat, and it's all because of this guy.
Watch his outside game, even if you can post him out, he spins and shoots, this guy is hard to defend.
Lebron, James
King james, argueably one of the best up and coming players. Want to know why the Cavaliers have the best record in the League?
Why? Because of him. He's doing it all himself, getting people involved, dunking, and shooting his brains out.
To not bring him on, would be a travesty.
Guards:
Gilbert Arenas... The guy finished off 2 GAMES, in a ROW, with a shot at the buzzer.
He shoots a really nice shot, and makes it go into the hoop as soft as butter.
This guy will really give Tracy a run for his money, He is ON FIRE. 2 Buzzer beaters, all alone, this man is deadly.
He probably won't make the All star game, because he's not as well known, But that doesn't mean he doesn't deserve it.
PLEASE everyone, I'm pleading with you, Let Arenas on the All star team.
Dwayne wade:
In my opinion, the Best guard in the game. He's a Steve nash/ Kobe Bryant. He gets his teammates involved when he needs to, but he also Shoots your lights out.
He doesn't focus on passing the ball, if he can get it in.
He has the deadliest spin in the game, Phil jackson himself saying Wade can get 20 feet, with his spin alone.
How do you stop this guy?
Only one way, Run him to death. Who can keep up with him? No clue, Nash could keep up, but nash couldn't defend him.
And tracy can Defend him, but he can't keep up.
Center
My second favorite player in Basketball, the most dominant center this game has ever seen, Shaq!!!
He's AMAZING, last year the Heat got to the finals thanks to Him and Wade.
Sure Wade had a WAY better playoff and Finals appearance, But they GOT TO THE PLAYOFF, BECAUSE OF SHAQ!
Case and point, without Shaq, the Heat can't get to the top, But if they can get to the Playoffs, Wade will give them that extra push to the top.
Does he deserve to be on the all star team?
!@#$@#$#@ Are you kidding me!!! DUH
~~~~~~~~~~~~~~~~~~~~~~~~~~~~~~~~~~~~~~~~~~
Who i didn't vote for, but will probably make it:
Yao ming, and Kobe bryant.
Yao is going to win and get in, even though he doesn't deserve it, because the NBA All star game voting is open to the WHOLE world.
Basically, China is gonna vote for him lol, or the majority of chinese basketball fans.
It'll be this way, REGARDLESS of performance, till Yao Retires.
Does yao deserve to be on the All star team? Maybe as a second string.... maybe.
Kobe, Does he deserve to be on the All star team? Yes
Is he one of the best players in the game? Yes
Then why didn't you vote for him? Well i don't like him, as a person or a player.
The lakers nearly lost their last game against Spurs because Kobe took the ball, and turned it over twice.
This was during the last 3 minutes of play.
He thought he could just go up, and make some points, he was wrong, and the Spurs rallied back.
The Lakers had a 10 Point Lead, broken down to 4, and they only won because Smush made a nice Three and they played some good defense.
Will kobe be in the all star game? Yes, because of his popularity.
But i'm not going to back him up, let others vote for him, I'll take Tracy Mcgrady over him.
And Steve nash WAS taken over as MVP twice, over him, so i'm not the only one who doesn't vote for kobe.
~~~~~~~~~~~~~~~~~~~~~~~~~~~~
By the way, Basketball is my favorite sport lol
as you can tell by now lol
I'll watch football, but i love basketball ten times more.
And baseball.... horrible to watch... horrible to discuss, again that's just me, but i hate baseball.
Football ----> Will start watching it more, now that we got some heat in L.A!!!